Welcome to my website.                                                         
It all started when I was 5 yrs old and happened to see The Beatles on the Ed Sullivan Show. 
The next day I was pounding on cardboard boxes & coffee cans,(see pic) During the next few years my brother & sister were blasting Zeppelin, Who, Hendrix, Grand Funk etc. on the stereo. That music became my inspiration.
I got my first drum set soon after. Eventually, my parents decided to have me take drum lessons from a family relative, who was Joe Vitale  (Joe Walsh, Crosby Stills & Nash, etc..)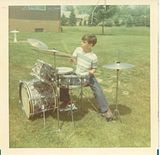 Eventually Joe gave up teaching to hit the road that would make up his legendary career.
After years of listening to the musicians that had the natural talent and chemistry that set them apart from anything since,  I developed my own style, and drumming just came naturally.
I started playing in bars, clubs & dances during High School. Then it was the Cleveland, PA circuits with the bands Nightrider, Backseat Romance and Quick.
"Backseat"was booked at the Cleveland Agora every Friday,  it was there I happened to meet many celebrities including, Carmine Appice, (drummer for Cactus, Jeff Beck, Rod, Ozzy).
One year later I entered the " CarmineAppiceDrumOff " contest in Cleveland and won 1st place out of 50 area drummers.
The prize was a free trip to the National Drum Off in Hollywood California. Out of 60 drummers I came in at 10th place, and got to meet many of my favorite drummers.
In 1988 I moved to Chicago with the band "Defcon" and had the pleasure of recording a cd produced by RUDY SARZO ( Ozzy,  Whitesnake ) as well as touring all over the place.
During that time I also came in 2nd place at the Chicago Drum Center " Drum Off ".
Over the years I've shared the stage with, LA. Guns , Pat Travers , Kansas , Yes , Pat Benetar, Nazereth,  Blue Oyster Cult, Rick Derringer, BulletBoys,  Stryper, PeterFrampton, Starship, Isley Bros. and more.
CURRENTLY I'm playing with ERIK NORLANDER'S " GALACTIC COLLECTIVE ", JOURNEY TRIBUTE-"MAJESTIC" also "HARLOW"
Also possible "Defcon" and  " Dreamstreet "  reunions in the future.
I'll always be hoping for the ultimate gig, but I'm proud of everything I've done so far, and everybody I've had the pleasure meeting and working with.
Thanks to all of you!
Nick……
Comments
comments
6 Responses to Nick's Bio